Introducing the next generation platform designed with electricians for electricians
Clipsal Iconic™ is a modern electrical accessories range, based on a slim, sleek, clean design that is easy to customise and blends in with your environment.
Clipsal's latest range is loaded with clever features and benefits like new game changing modular mechs and grids with changeable skins and dollies for unrivalled customisation now and in the future. Clipsal Iconic – next generation wall switches and sockets that give you more options than ever before.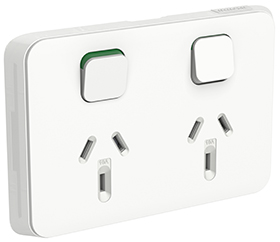 ControlLink, Bluetooth Low Energy & Wiser Room App offer clever efficiency
Clipsal Iconic™ electronic accessories bring clever efficiency into the home with our own ControlLink technology and Bluetooth Low Energy (BLE) connectivity. ContronLink offers multiway switching and dimming over standard wiring. The 3-wire pushbutton BLE connected products are the world's first app-configurable modular electronic switch mechs. The BLE mechs include an electronic switch, 24-hour timers, and 24-hour, 7-day scheduling time clocks. The BLE electronic mechs offer in room configuration and on/off control via the Wiser Room App. These innovative new technologies from Clipsal by Schneider Electric were developed by our own research and development team in Adelaide.